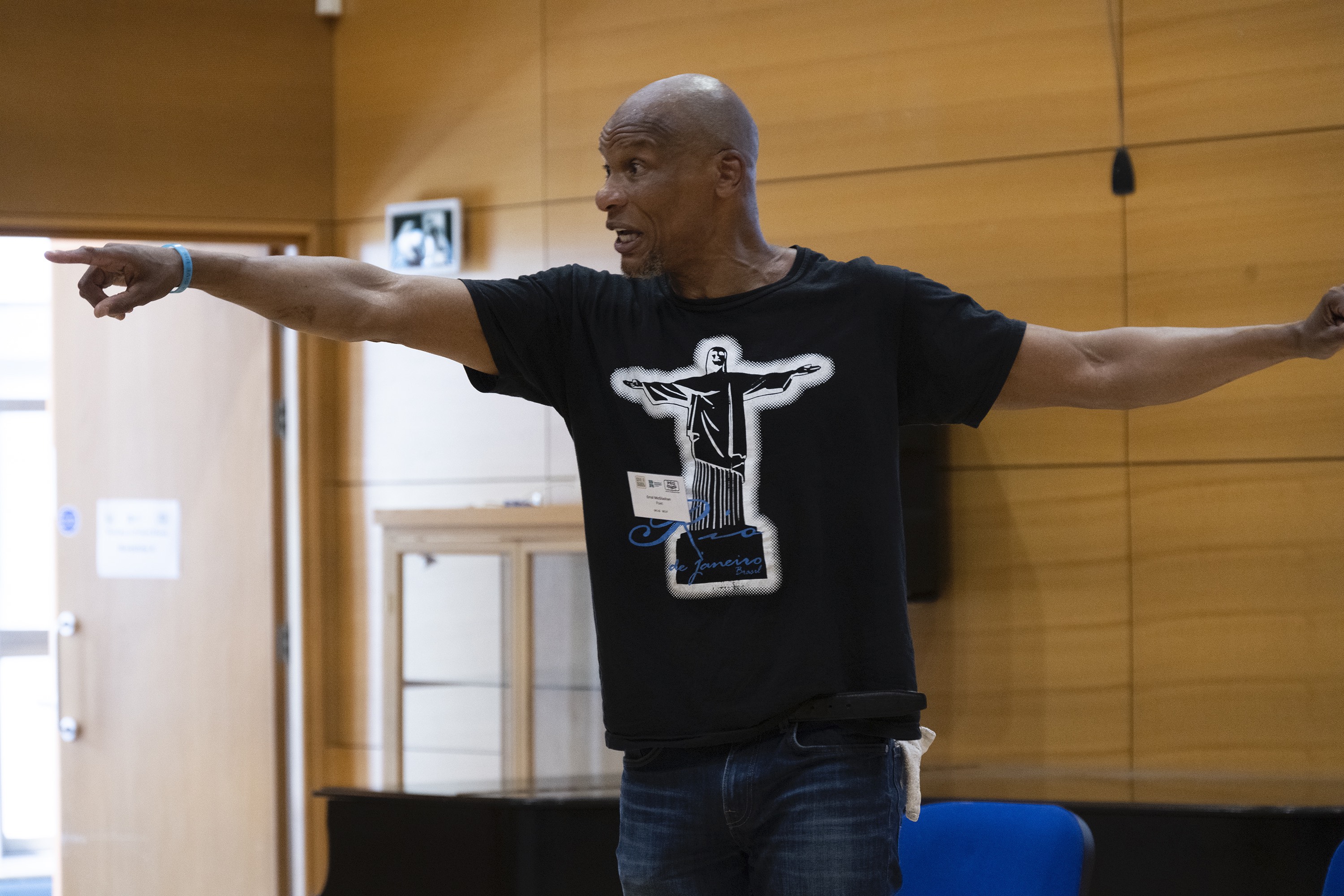 The Pleasure & Power of Books in Prison
On Friday 17th June PRG hosted its annual Reading in Prison event at the University of Roehampton. The day opened with a short introduction from Anthony Ray Hinton, the speaker, activist and author who was wrongfully convicted in 1985 and subsequently spent the next 30 years on death row. He spoke about the power of books and the freedom that books bring, with a few light-hearted words of wisdom about how romance novels have helped him with the opposite sex. One person remarked 'an extraordinary man with extraordinary experience.'
The first half of the day focused on reading groups and the pleasure of reading. Ali Smith, winner of the inaugural 2021 Pleasure of Reading Prize, combined these two topics perfectly which set everyone up for their first workshop, an abridged PRG reading group. We wanted to give people an insight into what it's like for a new group member: from the awkward silence of not knowing quite what to say to spirited discussion and debate.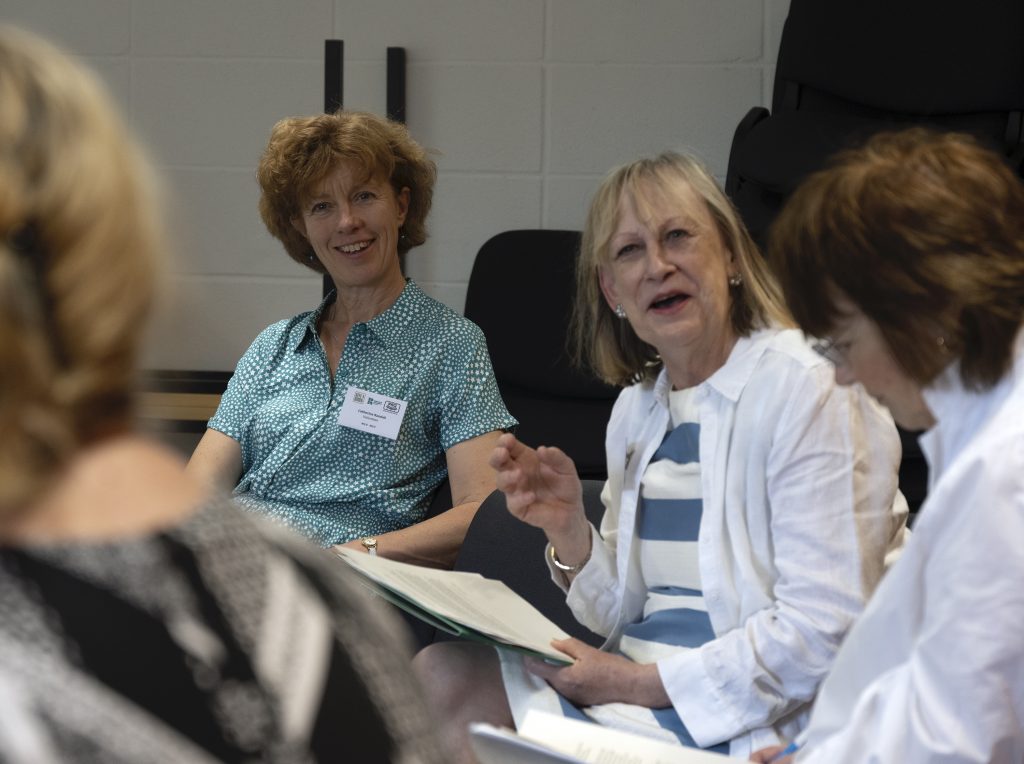 The feedback we receive each week from reading groups goes to show that its more than just book talk. We collated some thoughts and opinions, both good and bad, that had been raised about some of our most popular titles and brought the feedback to life in this video. The person we are indebted to for making this video is the fantastic Noemi Chimisso. She has produced a lot of creative content for both PRG and Give a Book and is one of our most dedicated volunteers.
Panel 1 blew everyone away. Hearing from Jo and Ashley who had worked as library orderlies in prison, a job which Jo spoke about with such enthusiasm, really captivated the audience. It was exceptionally heart warming to see Jo and David Herd, the librarian at HMP North Sea Camp and Jo's reading champion reunited.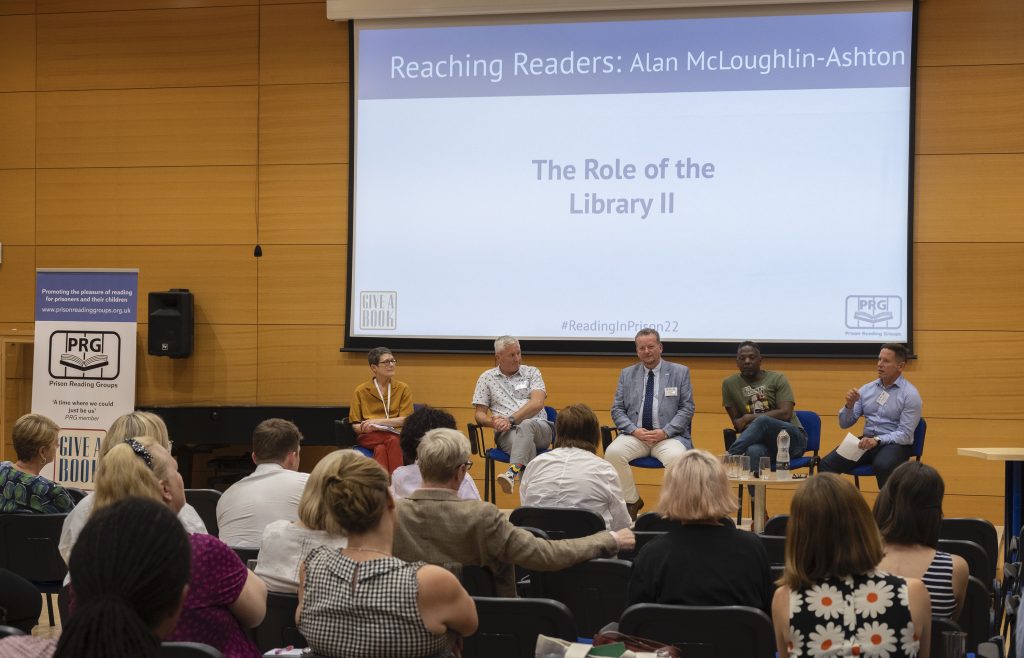 Errol McGlashan 'Word on the Kerb' kicked off the afternoon with an energetic spoken word performance.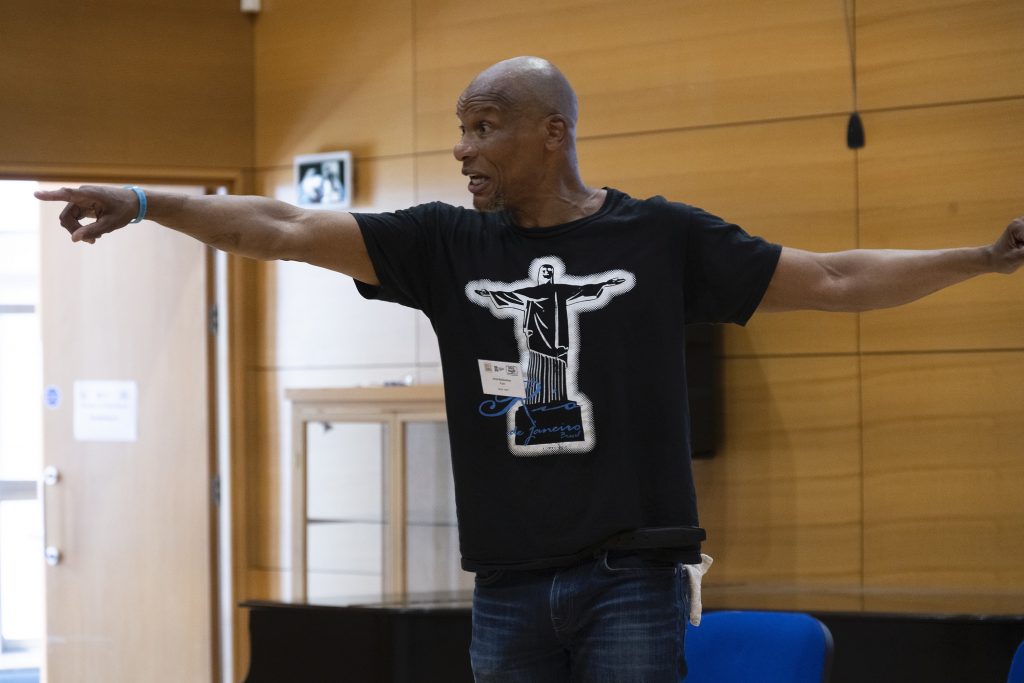 PRG's two strands of work are reading groups and family reading. We focused on the latter during the afternoon which opened with a powerful speech by the author Lissa Evans. She spoke from the heart and what moved people was her experience of adopting her two children at the age of six, neither of whom had been read to before.
We wanted to give the audience some hands-on experience with choosing children's books. Our new project 'Raising Readers' is a family reading project. The project offers parents the chance to choose a book to be sent home with a bookplate to personalise it. A tangible reminder for the child and a gift from their parent despite the distance and difficult circumstances. 'Thank you for thinking about my family and not just locking me away,' one parent said. The second workshop was a chance for people to test their children's book knowledge skills and identify any titles that might be potentially problematic or inappropriate.
Panel 2 included Rochelle Saunders from Lit in Colour, Meera Ghanshamdas from Round Table books, and renowned children's book champion Julia Eccleshare. Each woman spoke about key issues around children's books: the importance and necessity for diverse books everywhere including schools, and the importance of reading with your children and sharing stories.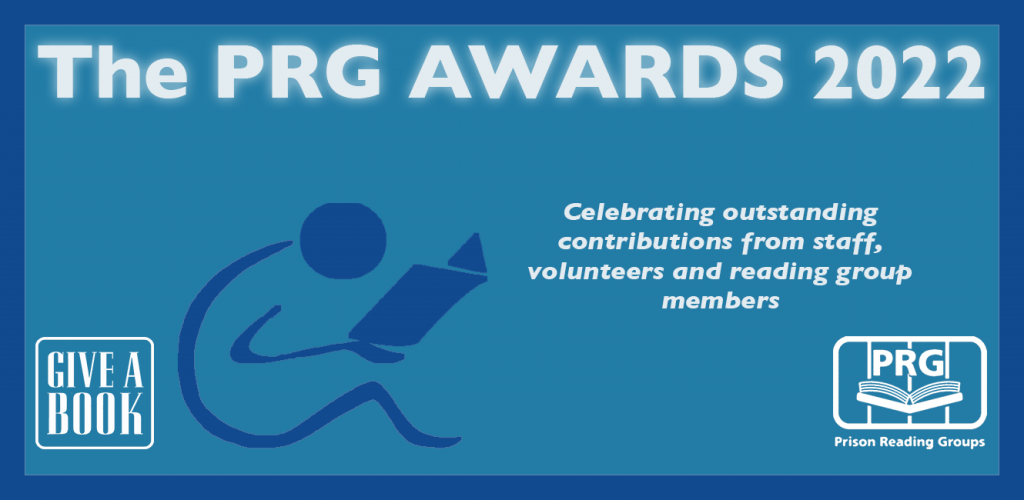 We concluded the day with the PRG awards. They were introduced in 2019, our 20th birthday year, as a way of recognising some of the wonderful work that goes on and the people who do it: our librarians, officers, family reading co-ordinators and volunteers. They make PRG possible and we're hugely grateful.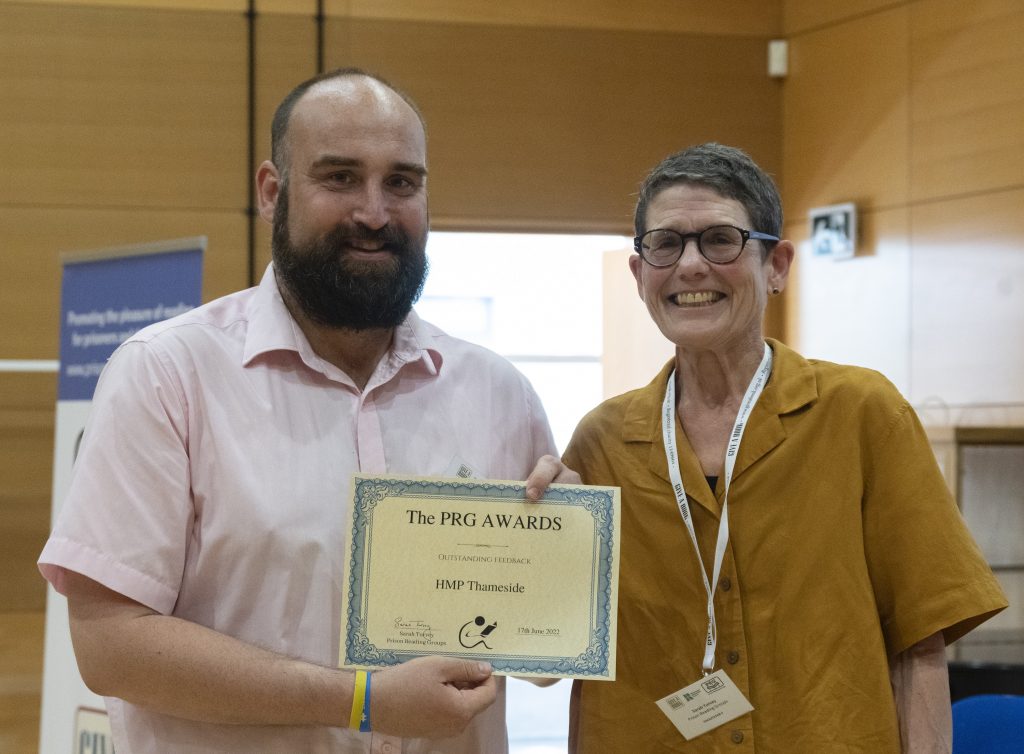 Winners
Outstanding Reading Group Facilitator– Heidi Hollis (HMP Warren Hill)
Outstanding Feedback I – Neil Barclay & Maggie Gallagher (HMP Thameside)
Outstanding Feedback II – Nicola Dixon (HMP Lancaster Farms)
Outstanding Family Reading Facilitator – Diane Halliwell (HMP Garth)
Outstanding Volunteer – Catherine Randall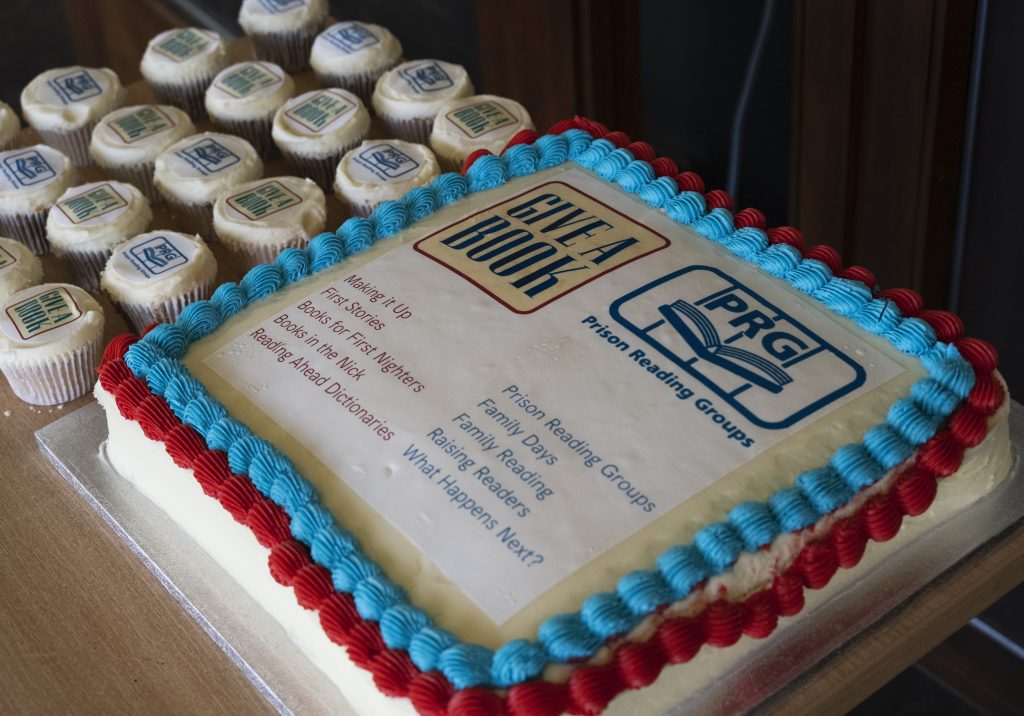 The day was a roaring success surrounded by people vocalising their passion for reading in prison. It was inspiring and insightful to hear from a range of speakers who share PRG's vision. It wouldn't have been a Reading in Prison event without a bespoke PRG & GAB cake to round off the celebrations.
A fabulous write up of the day was also featured in Inside Time. You can read it here.