Reading Group Roundup: The Mystery of Henri Pick
This first appeared in our regular Reading Group Roundup column in Inside Time.
PRG reading groups are thriving and more and more of them are back to in-person meetings. But remote groups are going strong in prisons where face to face sessions aren't possible yet. And there's been brilliant feedback written by members to share with others. Remote groups at Rye Hill, Winchester and Thameside picked up one of our Book Talk suggestions and it was mostly a great hit.
The Mystery of Henri Pick, by David Foenkinos
In the small town of Crozon in Brittany, a library collects manuscripts that were rejected for publication: the faded dreams of aspiring writers. Visiting while on holiday, young editor Delphine Despero is thrilled to discover a novel so powerful that she feels compelled to bring it back to Paris to publish it. The book is a sensation, prompting fevered interest in the identity of its author – apparently one Henri Pick, a now-deceased pizza chef from Crozon. Sceptics cry that the whole thing is a hoax: how could this man have written such a masterpiece? An obstinate journalist, Jean-Michel Rouche, heads to Brittany to investigate.
The Frenchness of the setting drew lots of response. A Sunday Times critic commented:
'It's so ridiculously French that if it started smoking Gitanes while you read it, you wouldn't be entirely surprised.'
Group members agreed: 'France felt very real.' 'Paris – the ideal place to mess up your life.' One reader even confessed to 'more than once reading the dialogue aloud in a French accent'. Hmm – we wonder what his cellmate thought?
The idea of the library as a sanctuary struck a chord for several readers:
'The library was a place for 'lost' stories. There are various sanctuaries needed in life. I guess prison is one. We are all lost souls in prison, hoping that one day we will be picked up and discovered.'
'I used the library as a young lonely teenager…to spend endless days there reading. I can still smell it.'
The novel is at least partly about love and romance and there were lots of different views of the characters and their relationships: 'Delphine and Frederic are devious, cunning and self-motivated. But they had a charm.' Magali's affair divided opinion: 'I had no sympathy for her', 'I don't think the intention is to sympathise, perhaps more to understand her decision'.
For one member, the most powerful romance was between the reader and the book:
'Each book we read can be considered a love affair of sorts, a brief fling with a single book, or forming relationships with an author or characters.'
Some found the style too 'flowery' but for others it stood out as a pleasure in itself: 'I liked the nostalgic element and fluidity of the book', 'I really enjoyed the writing style…would like to read more of this author'.
All in all a ringing success for almost everyone in these PRG groups.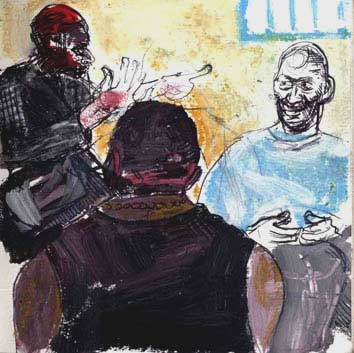 'Best book I've read in the book club so far.'
'This book was so good I had to read it again.'
'I really enjoyed the book. The great thing about PRG is that you send me books I wouldn't pick up myself.'
With thanks to all the PRG members and facilitators at Rye Hill, Winchester and Thameside.
If your prison doesn't have a reading group, encourage your librarian to have a look at www.prisonreadinggroups.org.uk and email admin@prg.org.uk if they would like to receive updates and resources from us. PRG is part of Give a Book.