Nov 2021-Reading Group Roundup: Northern Lights
The Warren Hill group takes on Philip Pullman's Northern Lights
Northern Lights is the first volume in Pullman's Dark Materials trilogy, followed by The Subtle Knife and The Amber Spyglass. The books were originally marketed for Young Adults but they've been hugely successful as 'crossover' books, read avidly by adults and teenagers alike. The trilogy has sold over 18 million copies and has been translated into 40 languages. It has also been adapted for TV, film and theatre.
The books follow the coming of age of two children, Lyra Belacqua and Will Parry, as they wander through a series of parallel universes. The fantasy elements include witches and armoured polar bears but they co-exist with explorations of physics, philosophy and religion. It's a heady mix and for many – but not all – an irresistible read.
When the Warren Hill group chose Northern Lights they couldn't yet meet face to face so they had to offer their views in writing. Quite demanding but they did it, and when the librarian put them all together so they could be shared, there was a real sense of a 'conversation'.
Fantasy tends to be a marmite genre with diehard fans and those who'd rather eat their eyeballs than read it. But Pullman seems able to appeal across the divide. As one member put it: 'Initial thought – fantasy, not my thing. But to be honest, once I got into it I just couldn't put it down'.
Most of the group were drawn in by Lyra and her ferocious determination. And almost everyone was fascinated by the idea of daemons, lifelong animal companions who accompany their humans everywhere. Children's daemons can change their form at will and become a tiger one minute and a mouse the next. But once children become adults, their daemons settle into a single animal form that expresses something essential about them. There was lots of speculation about this and the general appeal of the idea of such creatures:
Children are open to everything but adults become fixed in their minds and ways
Children haven't fully formed their personalities and characters. Anything is still possible
Daemons are always there for you, to reassure you, advise when needed – something every one of us could do with occasionally
One of the most troubling characters in the book is Lord Asriel who is both ruthless and cruel but also determined to challenge oppressive power:
'he's complex, complicated and conflicted'
Pullman has said that he modelled Asriel on the version of Satan created by John Milton in his epic poem Paradise Lost. The novel opens with a quotation from the poem where Satan stands at the mouth of hell and contemplates a journey to earth to see God's newly-created Adam and Eve: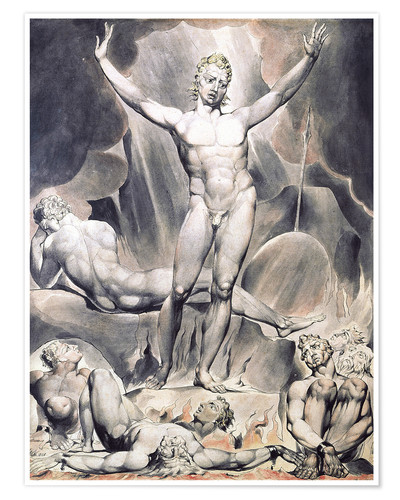 Into this wild abyss,
The womb of nature and perhaps her grave,
Of neither sea, nor shore, nor air, nor fire,
But all these in their pregnant causes mixed
Confusedly, and which thus must ever fight,
Unless the almighty maker them ordain
His dark materials to create more worlds,
Into this wild abyss the wary fiend
Stood on the brink of hell and look a while,
Pondering his voyage…
The group is supported by a brilliant librarian who put all the responses together and summed up the pleasure of the group: 
It was interesting to read the different responses and see that we all struggled a bit with pinning down exactly what dust is and whether we thought Lord Asriel was a hero or a villain. It made me think how we could have pulled apart these questions in a real discussion – hopefully our in-person group meetings won't be too far away! 
If your prison doesn't have a reading group, encourage your librarian to have a look at www.prisonreadinggroups.org.uk and email admin@prg.org.uk if they would like to receive updates and resources from us. PRG is part of Give a Book.