Reading in Prison Day 2021 Roundup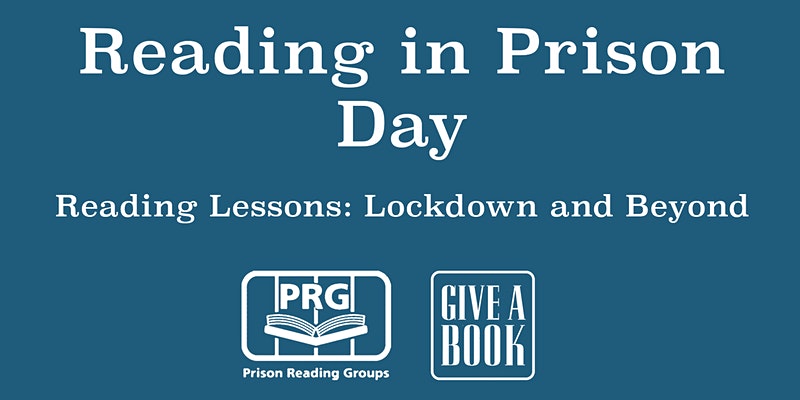 This year Prison Reading Groups and Give a Book held our first virtual Reading in Prison event, Reading Lessons: Lockdown and Beyond. Over 90 people joined us for snapshots of the brilliant ways different organisations have risen to the challenges of the last 18 months in prisons.
For months after lockdown started in March 2020 prisoners were locked in their cells for 23+ hours a day. There was no education, libraries were closed and there were no family visits. And of course prisoners have no access to the internet. But together we found ways to get books onto the wings, to connect children and parents through shared reading over the phone or in video visits, and to make our remote reading groups still feel like a conversation. We also reached out to the wider population inside through videos for prison television, broadcasts for radio, and book promotions for Inside Time, the national newspaper for prisoners.
The event began with a recording from Gabriel Krauze, author of the 2021 Booker-longlisted novel, Who They Was. His message was a celebration of the power of books to connect us, delivered with power and passion.
'Whatever you're going through, you can find it in books that make you realise you're not alone.' Gabriel Krauze
Connection was this year's over-arching theme : prisoners connecting with each other, with their families, with wider society and with themselves through books.
The keynote was given by Ralph Lubkowski, Governor of HMP Hewell and a great champion of the arts in prison. 'Reading and books are crucial to well-being in prison…books stimulate people in the least stimulating circumstances.'
'The evidence is clear: the arts in prison are a need-to-do, not just a nice-to-do' Ralph Lubkowski
Victoria Barnett is a long time prison librarian and now manages the libraries of all five Kent prisons. Kelly Fuller only started as librarian at HMP Erlestoke just as lockdown hit. But they both showed what can be achieved with grit and determination and they made us very grateful to all the wonderful librarians we work with.
Kirstin Anderson is an academic and a volunteer at HMP Shotts. Since lockdown she has run her group by post, sending books and discussion sheets to the members and writing back with summaries of responses as shared 'book talk'. It's commitment like this that makes PRG volunteers so special.
A great highlight of the morning was Storybook Dads' presentation of their Families on Film initiative, featuring a video sent to a prisoner of his tiny child taking his first steps. It was magical to watch and imagine what it meant to that father.
David Kendall talked about adapting Give a Book's Making it Up project so that prisoner parents would have the confidence even alone in their cells to make wonderful storybooks for their children.
And Kevin Field from Radio Wanno shared an interview with a children's author whose book about visiting a parent in prison was broadcast to help prisoners find ways to talk with their own children about it.
The event this year also spotlighted the connections that organisations and prisons need to make with each other. We heard from Unlocked Graduates, a programme that trains young graduates to become effective and innovative prison officers. It started five years ago and is about to celebrate its 500th trainee. PRG and Give a Book have been working closely with UG officers to create and support new reading groups and we look forward to hosting an UG officer on placement next year. 
One of the most important lessons of lockdown has been the need for better technology and ways to communicate with prisoners. The HMPPS Content Hub is a new digital platform with a wide range of educational and information content available to prisoners in their cells. We're working with Penguin Random House to provide audiobooks and hard copies through the Hub, as well as our Finding a Good Read videos.
Reading in Prison this year ended with the PRG Awards to recognise outstanding contributions to reading in prison by librarians, officers, volunteers and reading group members.
Outstanding Family Reading Coordinator– Kathryn Durkan at HMP Sudbury
Outstanding Feedback– HMP Rye Hill
Outstanding Reading Group Facilitator– Alan McLoughlin-Ashton & Library orderlies at HMP Garth
'The reading group has been a revelation to me. I was fascinated to hear how each person interpreted and read a book differently. It challenged me to read books I would never have considered. The group is a level playing field with no distinction between staff and the men. This gives the group the security to be honest which is why it has been so successful. The book club remains my most enjoyable session.' Alan McLoughlin-Ashton
From start to finish it was an exciting and energising event with much for all of us to celebrate and be proud of.
Sarah Turvey , Director of Prison Reading Groups