Prison Libraries Newsletter
Our blog for the Prison Libraries Newsletter in January 2020
Prison Reading Groups (PRG) started in 1999 to help set up, fund and run reading groups in prison. We currently support over 50 groups in more than 40 prisons nationwide. Since 2017 PRG has been part of Give a Book and together we deliver a range of additional book initiatives inside: support for Family Days; projects to help prisoner parents connect with their children through books; Books for First Nighters; books for Mother and Baby Units.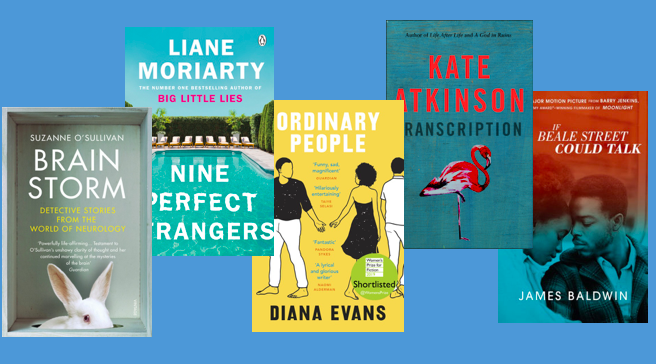 The reading groups are voluntary and informal and focus on the pleasure of reading. Groups choose the books they read and discuss, and are given new copies to keep or pass on to others. Choices are ambitious and members enjoy the chance to get together to compare and explore their responses.
'It's the most grownup discussion I have in prison'
Prisons can be tough places for outside organisations so it was with great pride that we celebrated our 20th birthday at our annual Reading in Prison event, attended by over 100 librarians, reading organisations, PRG volunteers, authors and most important, ex-prisoners.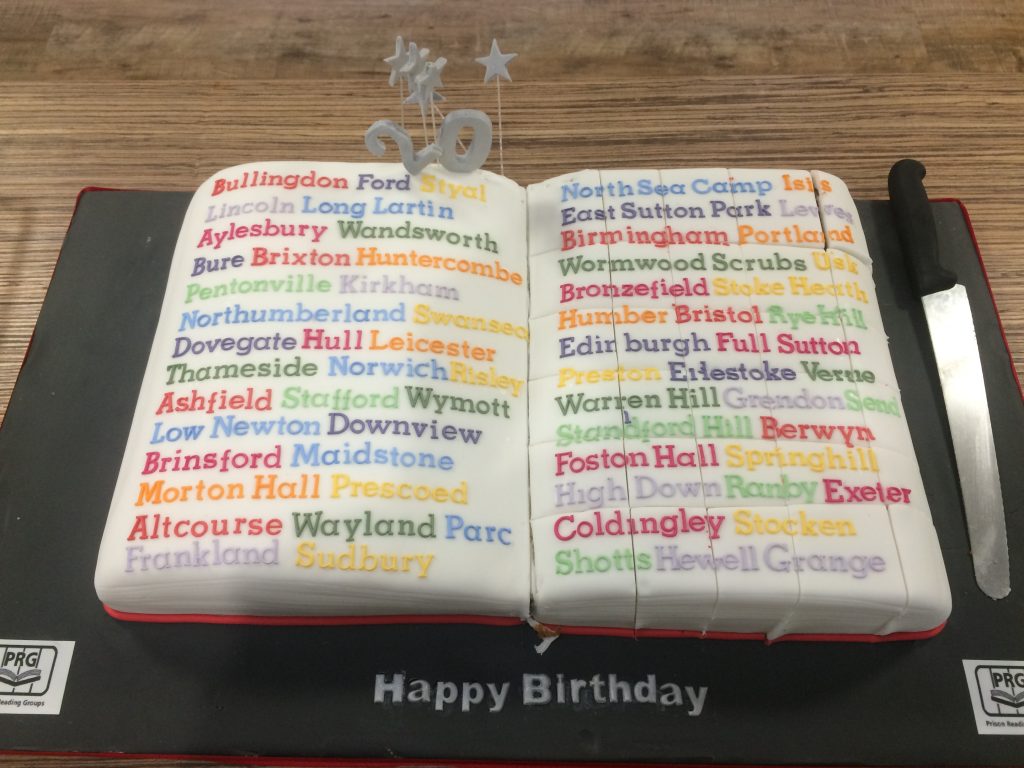 The icing on the cake came in November when we were presented with an award from the Longford Trust for outstanding contribution to prison reform. The ceremony took place at the Trust's annual lecture which was also broadcast live on National Prison Radio. The judges celebrated PRG's work 'promoting and supporting reading in prisons for over two decades…creating connectedness with outside culture, harnessing reading to bring families together, and building community inside the 40 jails where it operates'.
In her acceptance speech, PRG's Director Sarah Turvey paid special tribute to the prison librarians who make the groups possible:
Our work relies on the commitment and energy of the prison librarians and outside volunteers who run the groups. Nick Hardwick, former Chief Inspector of Prisons, has described prison libraries as 'oases of calm' and as almost every first-time visitor comments, the library is the one place inside that doesn't look or feel like a prison. It's the library staff who create this atmosphere, who run so many of the projects that bring confidence and ambition to prisoners, and who help make prisons more socialised and civilised places.
PRG reading groups are varied to meet the needs of different target groups: emergent or experienced readers; those with mental health problems; older prisoners or those in YOIs. Meetings may be weekly, monthly or something in between and the reading may be done in advance or during the session. Read aloud groups enjoy Quick Reads, poems, very short stories and sometimes philosophical 'thought experiments' like Julian Baggini's The Pig that Wants to be Eaten'.
Experienced readers enjoy the challenge of getting out of their comfort zone and many groups read a wide variety of novels and non-fiction. The list below gives a good snapshot of the range of one group's choices over twelve months:
Circe, Madeline Miller
Pompeii, Robert Harris
The Sisters Brothers, Patrick de Witt
The Shepherd's Hut, Tim Winton
The Fishermen, Chigozie Obioma
Days Without End, Sebastian Barry
You Don't Know Me, Imran Mahmood
Ordinary Thunderstorms, William Boyd
The Gustav Sonata, Rose Tremain
Small Gods, Terry Pratchett
Beloved, Toni Morrison
A Christmas Carol, Charles Dickens
'This prison reading group is a wonderful thing because I would never have read such a book on the outside and it's changed my point of view completely'
PRG and Give a Book also support Family Days with books for each visiting child and a volunteer to help parents and children choose and read their book together. We have also developed two projects to help prisoner parents feel more confident about enjoying books with their kids. In the Making It Up workshops, the men write and illustrate little books for their children while What Happens Next? explores the importance of books for children and how parents can make reading together more fun. Both projects include a family reading event with an invited author or illustrator.
'The workshop was an eye-opener about how important it is to read with your kids'
Drawings by the artist Inko
Look around you, it's like coming up for air' (a prisoner father at the family event)
Give a Book's Books for First Nighters (BFFN) provides a wide range of specially-chosen and appealing books for prisoners in reception and on induction wings so they have something to read and calm them when they first arrive. The selection includes classics, blockbusters, Quick Reads and puzzle books, and we send top-up boxes every quarter.
'Amazing. This has helped to keep my mind off jail on my first night in here'
There are currently six Mother and Baby Units across the country. The books that Give a Book supplies can play a key role in helping mothers bond with their babies and enjoy their time together.
'Nothing better than snuggling up together with a book'
For more detail about all our prison work see http://giveabook.org.uk/projects/projects-for-prisons/ and www.prisonreadinggroups.org.uk