In praise of library orderlies
'Our orderlies have been absolute stars during lockdown, assisting us with all sorts of unusual tasks!'
Learning Support Manager, HMP Dovegate
'The work is rewarding because of helping people, non-readers to very educated types'
Orderly, HMP Wymott
We all know that libraries are at the heart of all good prisons but Covid has hit hard. Most libraries have been closed to prisoners since March 2020 and many library staff weren't allowed back on site until last autumn.
But great work has gone on to keep reading alive: book trolleys on the wings, request and delivery services for borrowers, remote reading groups, brilliant newsletters. And in almost all the feedback we get, librarians tell us how important their orderlies have been in keeping things going.
All the orderlies at HMP North Sea Camp have moved on since lockdown started and the librarian has had to recruit replacements without being able to meet. Writing the job description made him aware of just how much his library depends on them:
'I mean we knew they did a lot, but perhaps we took them for granted slightly…Writing each task from scratch we are realising just how many tasks they are expected to do…They draw the library key and open [and close up] up every day. This demands trust and respect within the team…and respect is a two-way road.
We value the differences in the team. For example, I don't read fantasy fiction, sorry just not my thing. But I used to enjoy listening to one of the orderlies explaining a fantasy series or character to other residents looking or something to read.'
HMP Kirkham beat us to it and in their most recent newsletter, the Kirkham Chronicle, they included a pieced called – wait for it – 'In Praise of Orderlies':
'Our orderlies have continued to work throughout the pandemic contributing and helping set up the Satellite Library in the Support Centre. We also offered a trolley service initially run by the orderlies to all billets which included books/DVDs/ cards/Inside times/magazines/board games and jigsaws.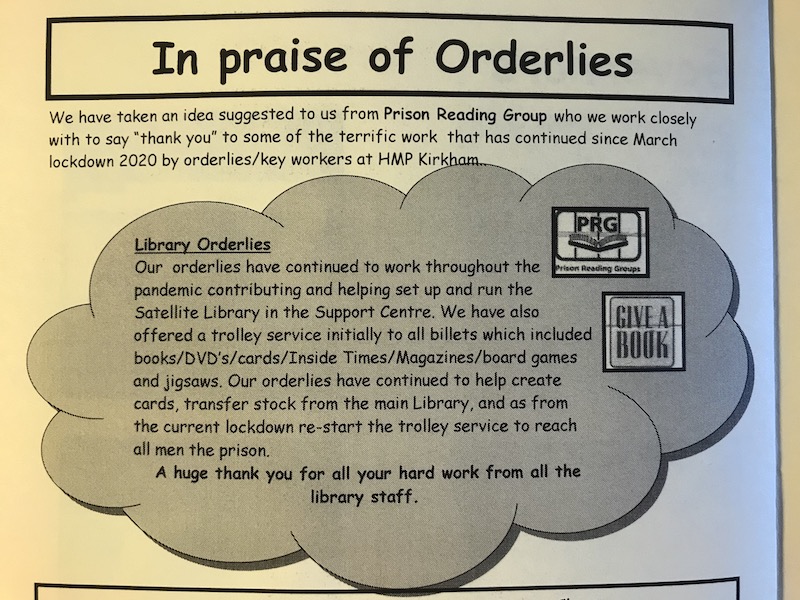 Our orderlies have continued to help create cards, transfer stock from the main library and in the current lockdown we have restarted the trolley service to reach all vulnerable men in the prison. A huge thank you for all your hard work from all the library staff.'
At Dovegate lockdown has brought new responsibilities for orderlies and helped them develop important skills:
'Since lockdown the orderlies' role has changed in respect that they have been putting together distraction packs and anything that may help occupy the residents behind their doors. There has been the delivery service which could not have been running if the orderlies hadn't continued their efforts in getting resources ready to go out. The main thing for myself is that they have assisted me with their knowledge/experience of the library as well as the prison itself and the help and excellent attitude they have continued to give regardless of the current situation.'
Above all, it's the mutual respect between library staff and orderlies that make them such good teams:
'We often receive thank you cards or letters from departing orderlies. One of the comments I found rather nice was "Thank you for treating me with respect, akin to a job on the outside, not in HMP"
Librarian, HMP North Sea Camp
'I'm treated by staff as a normal work colleague and I feel like I'm part of the library team'
Orderly, HMP Wymott